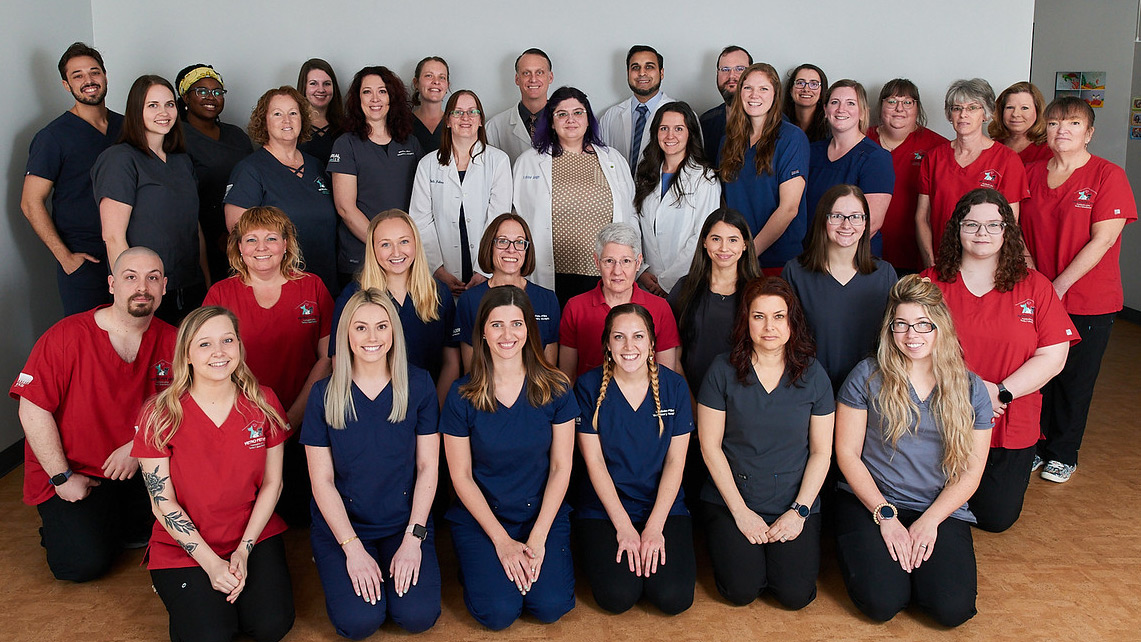 Our Team
We all love our own animals like family and we feel it is a privilege that you let us heal and treat your precious family members. Feel free to get to know the team better by reading a little bit about each of us
To provide exceptional support for the needs of others, all team members go through continuing education to grow and excel. Over the years, we have created an environment of sharing where team members are encouraged to bring new ideas forward and improve their individual strengths. The team grows stronger as each of us thrive individually. One person's triumph is everyone's triumph. In creating this environment, we have created an exceptional team.

Jeffrey S Steed, DVM
If you know Jeff, you know he is a graduate of The Ohio State University. He is passionate about everything Ohio State and has dedicated his "man cave" to his collection of about 300 OSU memorabilia. Jeff shares his home with his wife Kathy and their children Jarod & Sophia. Jarod is following in both his parents footsteps and is attending The Ohio State. Jeff purchased MPVH from Dr. Herr & Thompson in 2000, then Leola Veterinary Hospital in 2015.
Fact – Completed 50 triathlons.
Bucket List – Wants to swim from Alcatraz to San Francisco.
Slogan – Try to be a good Christian.
Quote – "Whatever you are, be a good one." Abe Lincoln
Pets – 2 french bulldogs (Mable + Archie), English Lab (Evvy) and 2 cats (Manny + Brutus).

Beth L. Nelms, VMD
Beth is a graduate of The University of Pennsylvania School of Veterinary Medicine. A native to Manheim Township, Beth volunteered and worked for MPVH while she was in college. She had come full circle when joining our team in 2012. Beth is a die-hard Philadelphia Phillies fan and can often be seen wearing her gear on her day off. It seems fitting since she was born on the day the Phillies won the World Series.
Fact – Been to over 100 Phillies games.
Bucket list – Wants to visit every Major League Baseball park to see the Phillies play.
Slogan- Do something good today.
Quote – The best things happen unexpectedly.
Pets – 2 pugs (Ellie + Rosie) and 2 cats (Ada + Olive).

Alyssa L. Savage, BVetMed
Alyssa grew up just outside of Reading, PA. She studied English literature while getting her undergraduate degree from Bryn Mawr College. She completed her degree in veterinary medicine at the Royal Veterinary College in London. She moved to Lancaster after vet school and loves living in the city. Alyssa likes to cook, read and listen to a ton of podcasts. Alyssa is very excited to be joining the team at MPVH!
Fact – She completed her degree in veterinary medicine at the Royal Veterinary College in London!
Pets – 1 dog Hoagie, a Chihuahua, and 1 cat, Haggis.

Sanjay Dick, DVM
Sanjay grew up in West Lancaster and started volunteering at a local animal hospital at the age of 12, where he began as a kennel attendant and eventually became a veterinary technician. Following graduation from LMH, he took a southern tour of Virginia, obtaining his Bachelor's and Master's degrees from Eastern Mennonite University and his DVM from Virginia Maryland College of Veterinary Medicine. Sanjay has a passion for feline medicine and urology, and also has explicit interests in ophthalmology, endocrinology, internal medicine, and soft tissue surgery. He currently lives in Lancaster with his wife and son. Sanjay is ecstatic to be returning to the Lancaster area to practice veterinary medicine with MPVH!"
Fact – I have a weakness for chocolate chip cookies and Reese's

Bucket List – Take my family to see the Taj Mahal

Slogan – Don't chase your dreams. Execute them.

Quote – "I see now that the circumstances of one's birth are irrelevant. It is what you do with the gift of life that determines who you are" – Mewtwo

Pets – 1 dog (Jameson) and 3 cats (Katia, Spencer, and Burton)

Julia Bossert, DVM
Julia found her way to Metro in 2017 when she worked for us as a veterinary assistant before attending vet school at Auburn University. Julia lives in Lancaster with her husband Chris, their dog Sam and approximately 450+ cow collectibles. Julia's late family dog, Loulou, was her inspiration to become a veterinarian; her goal is to help families care for their furry (or scaly, or feathery) babies the way she cares for her own. Outside of work, she enjoys hanging out with family and friends, their dogs, and playing board games or visiting breweries.
Fact: Dual citizen (Germany and USA!) 

Slogan: Big or small, let's save them all

Bucket list: Visit an elephant sanctuary in India

Quote: If you want to go fast, go alone. If you want to go far, go together.

Pets: 1 very perfect dog named Sam aka Hammi

Denise Warner, Practice Manager
Originally from Philadelphia, Denise joined our team in 1987. She shares her Lititz home with her husband George, son Cole and 3 cats. Denise's cats all have musical names, "Carly" Simon, Sargent "Pepper" and Kenny "Chesney". In the fall she can be found watching football and rooting for the Philadelphia Eagles. She enjoys spending time with her adult children, Emma & Cole and traveling anywhere that involves a beach and ocean.
Bucket List – Wants to safari in Africa.

Sarah Beatty, CVT + Nurse Supervisor
A devoted fan of Auburn Tigers, you will find Sarah's dog, Wally, decked out in collar, leash and sweater for football season. Sarah likes to travel and has been to Jerusalem, South East Asia and to 46 of our 50 United States. An avid photographer, on the weekends you might find her and her husband, Simeon, photographing a wedding or taking family photos. Joining our team in 2011, Sarah says the best part of her job is interacting with pets & their people.
Bucket List – Wants to go on a Safari.

Sarah Dohren, VT
Sarah joined our team in 2004 after moving from Wisconsin. She is a lover of large dogs, living with Splash, a flat coated retriever and Finale, an Irish Wolfhound. On the weekends she can surely be found at a doggy event such as Coursing or Agility. Sarah's favorite part about her job is seeing the bonds between people and their pets grow. 
Bucket List –  Wants to swim with great white sharks in South Africa.

Mary Beth Whittredge, CVT
Growing up in Rochester, NY, Mary Beth joined our team in 2009 after moving from Arizona to the York area where she is currently living with her husband Ernie, children, cats, and dogs. She loves the animals here at MPVH that she gets to interact with on a daily basis and the opportunity to care for their health.
Favorite Place Visited – Tonto Natural Bridge, AZ or the Redwoods.

Karen Welch, CVT
Joining us in 2011 after graduating from Lehigh Carbon College Karen's #1 challenge every week is being Dr Steed's surgery nurse. Karen lives in Manheim with her husband Stephen. In her spare time, she loves to spend time outdoors, playing board games and Karen reads at least 1 book a week. Her favorite vacation spot is the beach, saying "Sunshine is the best medicine"
Bucket List – Wants to travel to New Zealand.

Courtney Valway, CVT
A 2009 graduate of Harcum College, Courtney joined our team in 2021 with over a decade of experience as a vet tech. Her favorite aspect of her job is building relationships with clients and being able to help their pets. When not at work, she shares her home with her daughter Kennedy, dogs Addy and Olive, and guinea pigs Moon and Sunny. This might be why her favorite morning drink is Red Bull. Courtney also works out 5-6 days a week, and someday hopes to compete in a triathlon.
Coolest place I've visited – Snowbird, Utah

Julie Whaley, CVT
A native of Ohio, Julie joined our team in 2004 until 2013. After a 3 year hiatus she rejoined us in 2016. Her bustling household is filled with her husband, Dave, 2 kids, 2 dogs, 3 cats and 12 fish. She likes spending time outdoors with her family hiking or skiing. Julie says she likes to come to work everyday because, "I love the people I work with and the animals & owners I get to help."
Bucket List – Wants to travel to Australia.
.

Alyssa Wardecker, CVT
Alyssa is an avid outdoors woman. She loves spending time with her dogs, Dixie & Ryder and her horses. In the winter she can be found ice skating on her family pond. She joined our team in 2015 and her favorite part of her job is caring for your pets. 
Bucket List – Wants to go sky diving, WOW.

Marie Rose, Client Service Representative
Marie who grew up in Lancaster, now lives in York with her husband and 4 cats, 1 dog and a bunny. She loves going on bike rides, hiking and spending time with her 3 adult sons. Marie is a coffee enthusiast and her favorite coffee is Choc Full O'Nuts. When Marie joined us in 2008 her life came full circle when she realized that her father + grandfather built the house directly across the street from MPVH and as a child played there.
Bucket List – Wants to travel to Fiji.

Kim Roy, Client Service Representative
Kim joined our team in 2007 after working 20 years in the customer service industry. Kim is our Feline Friendly Practice advocate and a true cat lover. She can often be found wearing "Cat Clogs". She lives in Lititz with her 2 kitties, Violet & Clawde. Kim is a zealous reader and has been known to read several books in a week.
Food She Cannot Live Without – Diet Pepsi + Dark Chocolate.

Melana Cruz, Client Service Representative
A native of Lancaster County, Melana joined our team in 2013. Sharing her time between Leola + Manheim Pike locations; Melana's passion and empathy for pets is observable every day. In her spare time she enjoys spending time with her husband and 2 kids, reading and writing short stories.
Bucket List – Picking a destination at the airport with no luggage.

Heidi Suydam, Client Service Representative
Heidi, who grew up in Lancaster, joined our practice in 2018 with 4 years previous veterinary experience. Her motto is to "Stay Golden" and she does in her free time by hanging by the pool and relaxing in the sun. She studied art/graphic design in college and enjoys cheering on the Montreal Canadians. Heidi shares her home with her special needs cat named Clawde.
Bucket List – Wants to travel to Monte Carlo.

Michelle Resh, Client Service Representative
Since joining our team in 2016, Michelle has worked as both an assistant and a client services representative. She loves her job because, as she says, "I get to be a voice for the animals and help them be their best self." In her free time, Michelle teaches and performs colorguard, where sparkles are her signature look. Her ideal evening would probably include cuddling with her dog Maija while eating strawberry crepes and watching reruns of Friends.
Collects – Snowglobes + seashells.

Cindy Bingeman, Client Service Representative
Cindy joined our team in 2018 with 23 years of previous veterinary experience. Sharing her home with her husband, grown son and cat named Boxwood; Cindy grew up on a farm, and now lives in Lititz. In her spare time Cindy enjoys hiking, skiing, hunting, and people watching at the beach. Her favorite sports teams are The Philadelphia Eagles & The Dallas Cowboys.
Bucket List – Wants to go sky diving.

Emily Stone, Client Service Representative
With several years experience in the veterinary field, Emily joined our team in 2017. You will see Emily at both our Leola + Manheim Pike locations. She lives in Willow Street with her teenage daughter and "the best cats ever" Dexter + Nugget. Emily says she enjoys her coworkers and helping people help their pets. In her free time she enjoys reading and watching horror films.
Favorite TV Show – The Golden Girls + Seinfeld.

Jackie Sahd-Linetty, Client Service Representative
Jackie joined our team in 2021. Her family includes her husband Shane, two sons Alex and Austin, and pets Misha (dog) and Simon (cat) – and any cats she might be fostering at the time. Someday, she'd love to spend 3-6 months in another country on vacation with them. Her ideal staycation, though, would include lots of popcorn, sushi, and Marvel movies.
Favorite Quote – "Be the change you want to see in the world."

Adam Bailey, Veterinary Assistant
Adam lives in Lititz in the same house that his mother grew up in, and has been a team member since 2003. He is a fan of Mythbuster's and Star Trek, and can name all the Captains of the Enterprise. Adam enjoys visiting Cape May and would like to try deep sea fishing. Being able to see immediate results with a sick patient is his favorite thing is about working here.
Favorite Music – Celtic Rock.

Cherie Hoover, Veterinary Assistant
Since 2006, Cherie has been a member of the MPVH team. She lives with her husband Justin, 2 children, 1 cat, and 2 guinea pigs. Being very creative, Cherie enjoys painting, architecture, vintage décor. Being able to work with people who are like family while doing what she enjoys is what Cherie loves most about the job.
Bucket List – Wants to vacation in Ireland.

Katie Stehman, Veterinary Assistant
A native of Lancaster, Katie joined our team as a veterinary assistant in August 2004. In 2010, Katie took on the role of Nurse Assistant Supervisor. Katie enjoys working with all patients at MPVH, but especially enjoys the visits by ferrets and guinea pigs. Katie enjoys spending time with her family, being outdoors and reading with her three young sons.

Preston, Veterinary Assistant
Preston was raised and currently resides in Talmage, PA. He and his wife, Rachel, have one dog (Tally) and one cat (Ichigo). Preston joined the MPVH team in 2018. In his spare time, you can find Preston relaxing with his family or taking and editing photos! Preston and his dog, Tally, are a Pet Therapy team with KEPTS.
Life Slogan – It's gonna' be a great day!

Kay Gildea, Veterinary Assistant
Kay joined the Manheim Pike team in 2018 after years of previous experience. Kay shares her home with her dog (Corky), 4 cats (Colbert, Friday, Cheeks, + Atlas) and a Tortoise (Tortellini). She enjoys painting, disc golf, and thrifting! Kay loves her job because, "helping animals and their owners makes her heart feel full."
Guilty Pleasure – Sweets!

Sarah Key, Veterinary Assistant
A hardworking bookworm and current vet tech student, Sarah K loves spending her time cooking (with cheese) and watching the 2005 version of Pride and Prejudice. She lives with her husband, Brandon, and her two cats, Ellie and Cassie, in Lititz – where she grew up. Sarah's favorite way to tackle the day is to "kill 'em with kindness".
Fun fact- Sarah collects ornaments from everywhere she visits (including "the coolest place" she's been: Salzburg, Austria).

Carlos Rivera-Ortiz, Veterinary Assistant
Since Carlos joined us in 2020, he's improved our music taste. When he's not listening to chill indie tunes in the treatment room, he's helping to prep patients for surgery. Carlos says what gets him out of bed is knowing "I get to learn more about medicine and biology." After work, he loves winding down by watching anime in the home he shares with his two best friends, two cats, and his snake.
Bucket List – Explore Japan and Australia

Lizbeth Vargas, Veterinary Assistant
Liz is most passionate about one thing: spending time with her daughter, Isabel. They love to watch movies together and make each other smile. In fact, Liz's life motto is "to always keep a smile on your face no matter the struggles you're going through." Her second passion is the furry patients she cares for at MPVH since she joined our team in 2020.
Collects – Diapers and wipes

Alaina Reardon, Veterinary Assistant
We wish Alaina success as she attends
Ross University School of Veterinary Medicine in St. Kitts.

Caitlyn Binderup, Veterinary Assistant
Since joining us in 2020, Caitlyn has been a huge asset to the team. Rottweilers and English Bulldogs have a special place in her heart – probably because she has one of each at home (Odin and Lilly). When she's not watching her favorite film (A Star is Born) or her favorite team (the Steelers), she can probably be found eating vanilla and peanut butter ice cream. She says her favorite part of her job is "I get to care for animals and be their voice when they're in need."
Fun fact – Caitlyn's family owned a bakery called "Binderup's Bakery."

Andrea Fahnestock, Veterinary Assistant
Andrea joined the practice in 2020 after previously working in the graphic design industry. Among her other varied interests are sewing, playing piano, and studying languages. When at work, she can probably be found holding a puppy. When not at work, she can probably be found holding a cup of ramen. Andrea shares her home with her husband Matt, Sadie and Luna (cats), Zubi (hamster), and Tuna Fey (fish).
Fun fact – She has a twin brother named Alex who also works in scrubs…as a physical therapist.

Danielle Powers, Veterinary Assistant
We wish Dani success as she attends Auburn University School of Veterinary Medicine.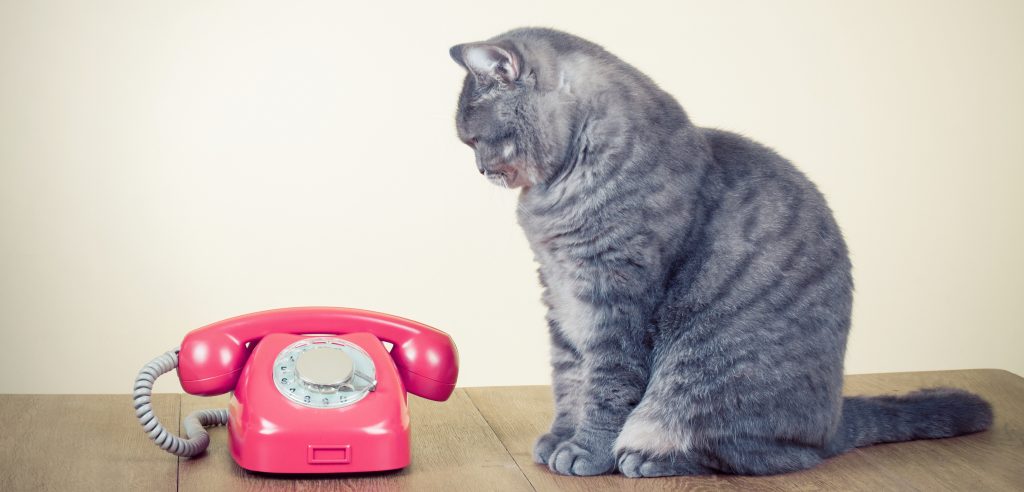 How Can We Help You Today?